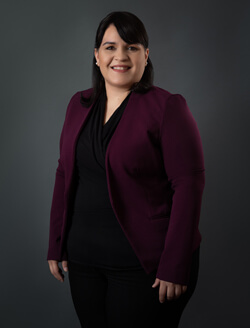 Attorney Michelle Marrero-Girona is a member of our Litigation Team. Ms. Marrero Girona's primary practice area is general civil litigation, administrative proceedings and insurance litigation. Her practice encompasses all phases of litigation before state and appellate courts of the Commonwealth with emphasis on contractual disputes, collection actions and torts.
Attorney Marrero-Girona has clerked for Judge Colón Birriel of the Appellate Court of Puerto Rico.
Ms. Marrero-Girona will concentrate her effort in our firm in general litigation, insurance litigation and banking default servicing, lost mitigation and foreclosure proceeding.
Education
B.A. Social Science, University of Puerto Rico (2005)
J.D. Inter American School of Law (2009)
Bar Admissions
Commonwealth of Puerto Rico (2015)
Notary Public