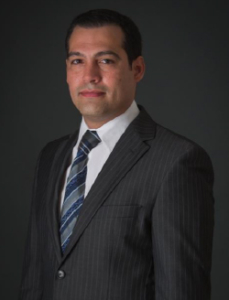 Víctor D. Candelario-Vega holds degrees in Law (University of Puerto Rico) and Engineering (University of Puerto Rico at Mayaguez), as well as a Master's degree in Law (LLM) from Tulane University concentrating in Business Law. He is admitted to the practice of Law in the Commonwealth of Puerto Rico, the United States District Court for the District of Puerto Rico as well as the First Circuit Court of Appeals. Attorney Candelario-Vega has served as government and legislative counsel in both the legislature of Puerto Rico and several municipalities throughout the Island. He has also served as Regional Director of the Environmental Quality Board of Puerto Rico ("JCA", by its Spanish acronym). Attorney Candelario-Vega has extensive construction, energy and environmental experience in both public and private practices while concentrating his practice on Construction, Corporate, Environmental, and Energy Law matters.
Mr. Candelario represented the Puerto Rico Highway and Transportation Authority ("PRHTA") in the procurement, negotiation, and the execution of the $750MM operation and maintenance agreement for the rapid transit system in Puerto Rico (also known as "Tren Urbano").
In the Energy front, Mr. Candelario has represented the Puerto Rico Electric Power Authority (PREPA) in prominent administrative proceedings before the Energy Commission, including, among others, the public corporation's debt restructuring, PREPA's legacy bonds securitization, Aguirre Offshore Gasport Economic Analysis and the rate case.
Some of the cases and issues Mr. Candelario has provided advice and representation on include:
In Re Aguirre Site Economic Analysis – Energy Commission
Verified Petition for Restructuring Order PREPA Revitalization Corporation – Energy Commission
US v. PRIDCO, CERCLA claim for a superfund site at Maunabo;
$68MM Inabón v. PRHTA, tort and breach of contract litigation;
$100MM Siemens v. PRHTA, Tren Urbano delay and lack of productivity litigation.
Education
B.S. Chemical Engineering, University of Puerto Rico at Mayaguez (1998)
J.D., University of Puerto Rico School of Law (2001)
LL.M., Tulane University (2003)
Bar Admissions
Professional Engineer, Puerto Rico Professional College of Engineers and Land Surveyors
Commonwealth of Puerto Rico (2002)
U.S. District Court District of Puerto Rico (2003)
U.S. Court of Appeals 1st Circuit (2004)
Notary Public